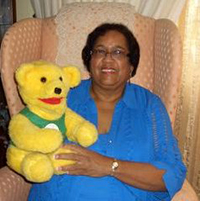 Linda Jefferson, MA.
In Memoriam
Linda Jefferson, MA died suddenly February 2016. Linda was a valued member of the Grow With Guidance Team.  She skillfully and lovingly made our GG Raddbearie puppets. Linda was such an amazing person. She was a treasured colleague, team member, and friend. We are so grateful and honored to have the opportunity to know and work with her. We miss her and are appreciative for her contributions to our Grow With Guidance Team.
Linda Jefferson, MA. was an elementary school teacher who taught in the Lima, Mansfield, Toledo and Columbus School Systems. After obtaining a master's degree she applied for a position as a Language Arts editor. She worked for the Merrill Publishing Company and then the McGraw-Hill Publishing Company for 15 years.
She and her husband, the late Eugene B. Jefferson, have two children and three grandsons. Linda published a children's book for her mother, Geneva Ferguson Bland. Herman and the Mini-Bus With Soul was published in 1994 and is now a part of many home, school, and church libraries throughout the United States as well as some countries abroad.
After retiring from the publishing company, Linda worked in the family real estate business, did community service, and was an active member of Alpha Kappa Alpha Sorority, and Shiloh Baptist Church. She also traveled as much as possible and pursued her hobbies. She enjoyed making personalized dolls and G.G. Raddbearie for Dr. Tommie Radd's Grow With Guidance program.